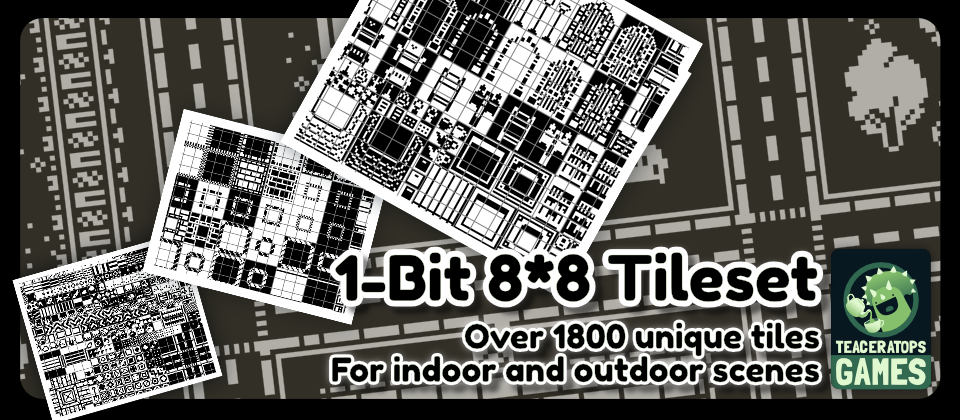 1-bit tileset 8*8px (Pulp compatible)
A downloadable asset pack
An 8*8px 1-bit tileset (Pulp compliant)

**This is a base environment pack to help get you started with your own project. It is very likely you will have to make custom tiles, or edit existing tiles to fit your exact needs. However, this tileset should help you flesh out the majority of your game, and save you time, so you can concentrate on the rest of your game**
[UPDATE ] Now with a colour-coded guide! (do not use this in the pulp editor!)
Over 1800 unique tiles
1-bit (black and white)
indoor and outdoor tiles
floor tiles
wall tiles
roof tiles
decoration objects
Confirmed to work with Playdate's Pulp editor (instructions on how to use this tileset in Pulp included in this downloadable file) for more info on Pulp, see https://play.date/dev/
*please note, due to the extremely optimised nature of the tiles, I will not be sharing the full tile set as a sample. Sample in header and cover image include a screen shot of tiles working in Playdate's Pulp editor, and screens of parts of the tileset in ProMotion NG.

License:
Can be used and edited for commercial and academic game development purposes.
Can be used for table top game purposes.
It is recommended that If the assets are used for commercial use, an additional donation is made at https://ko-fi.com/gamedevmum
Not to be sold-on as assets or in a bundle in edited or original form.
It is strictly forbidden to use any of the contents of this tile set in any relation to block-chain related technology, including but not limited to; NFTs, Crypto, or bitcoin.
Purchase
In order to download this asset pack you must purchase it at or above the minimum price of $3 USD. You will get access to the following files: