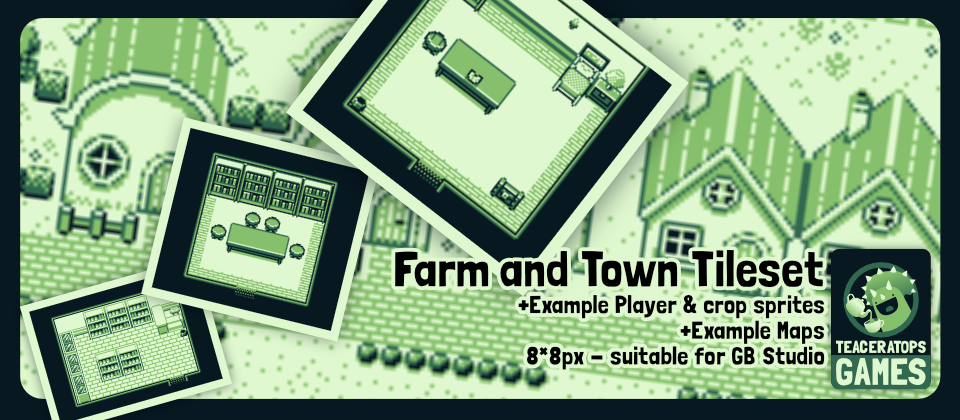 GameBoy Style Farm and Town Tileset
A downloadable asset pack
***UPDATE IS HERE!***


A Game Boy style 8*8px farm tileset, with a GB Studio compliant colour palette.

Over 2700 unique tiles
3 tilesets; the original, V1.5, and V2
5 colours (1st colour transparent)
7 complete buildings
Over 100 ground tiles
Indoor and Outdoor tiles
decoration objects
A playground
5 vehicles, including a tracktor with multiple Farming device attatchments
One base human character, one unicorn, and one brontosaurus
basic vegetable items, with growing states and harvestables
7 example maps (see screenshots)
2 example menus
In the DEMO version, in addition to the content above, you also get the FULL GB Studio game files and assets used in The Tileset Demo Game, Here. This can be used as a base for a GB Studio game, for learning purposes, as a template for a game idea you want to prototype, or as a template for a Game Jam game, where time might be of the essence.
*please note, due to the extremely optimised nature of the tiles, I will not be sharing the full tile set as a sample. Please find the tile set showroom The Tileset Demo Game, Here.
License:
Can be used and edited for commercial and academic game development purposes.
Can be used for table top game purposes.
It is recommended that If the assets are used for commercial use, an additional donation is made at https://ko-fi.com/gamedevmum
Not to be sold-on as assets or in a bundle in edited or original form.
It is strictly forbidden to use any of the contents of this tile set in any relation to block-chain related technology, including but not limited to; NFTs, Crypto, or bitcoin.

Purchase
In order to download this asset pack you must purchase it at or above the minimum price of $5 USD. You will get access to the following files:
Farm_Town_GBStudio.zip
184 kB
Farm_Town_Demo.zip
849 kB
if you pay $20 USD or more
Comments
Log in with itch.io to leave a comment.
Can I see crops graphics sample? Thanks.
Hi, as stated, there is only a basic set of crops sprites included in the tileset; approx 7 vegetables. They were added as a bonus to the tileset for those who have bought it.
If you are looking for a full crop pack, and not the tileset in particular, I would maybe avoid this tileset in particular.
I really like this, but I wish it was 16x16. Would it be ok if I made my own tileset based of this but 16x16, and with some changes?
Or maybe could you release a 16x16 version?
P.S. I don't know whether I will use what it commercially but probably not
Absolutely! AND you can use your edited tiles in a game you sell - the only stipulation is you don't sell the edited tiles as an asset pack :)
I love the anti-NFT and anti-crypto rule, fk these scams, you rock 😍😍😍😍
I don't get it; what's to love about this? it's the author's choice. while 99% of nft/crypto is a scam, bitcoin isn't, and is our only hope to stop productivism enabled by an inflation based system.
Does this come with font assets?
No. Fonts is not something I am looking to do right now, nor have plans to do in the future. But if you search itch.io for 'GB Studio Fonts', there's some suitable ones available. There's even a font generator someone has made, but I haven't tried it myself, yet.
I hope you find what you are looking for :)
are these pictures showing all the tiles? i was wondering what it includes in the way of nature tiles like trees and the like
This looks super lovely! 😊