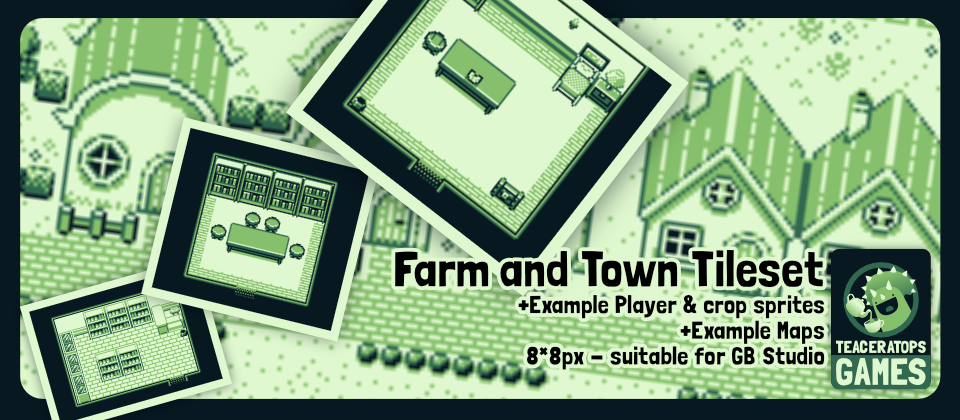 GB Style Farm and Town Tileset
A downloadable asset pack
A Game Boy style 8*8px farm tileset, with a GB Studio compliant colour palette.

Over 666 unique tiles
2 tilesets; the original, and V1.5
5 colours (1st colour transparent)
7 complete buildings
Over 30 ground tiles
Indoor and Outdoor tiles
decoration objects
One base human character & one unicorn
basic vegetable items, with growing states and harvestables
7 example maps (see screenshots)
2 example menus
***Please note, I have removed the .pmp files due to lack of use***
License:
Can be used and edited for commercial and academic game development purposes.
Can be used for table top game purposes.
It is recommended that If the assets are used for commercial use, an additional donation is made at https://ko-fi.com/gamedevmum
Not to be sold-on as assets or in a bundle in edited or original form.
It is strictly forbidden to use any of the contents of this tile set in any relation to block-chain related technology, including but not limited to; NFTs, Crypto, or bitcoin.

***PLEASE NOTE, due to the additional content, the price has been increased, however, this tileset is now a complete art starter set for creating your first game, prototype, or game jam entry***
Purchase
In order to download this asset pack you must purchase it at or above the minimum price of $2 USD. You will get access to the following files:
Farm_Town_GBStudio.zip
69 kB
Comments
Log in with itch.io to leave a comment.
Does this come with font assets?
No. Fonts is not something I am looking to do right now, nor have plans to do in the future. But if you search itch.io for 'GB Studio Fonts', there's some suitable ones available. There's even a font generator someone has made, but I haven't tried it myself, yet.
I hope you find what you are looking for :)
are these pictures showing all the tiles? i was wondering what it includes in the way of nature tiles like trees and the like
This looks super lovely! 😊